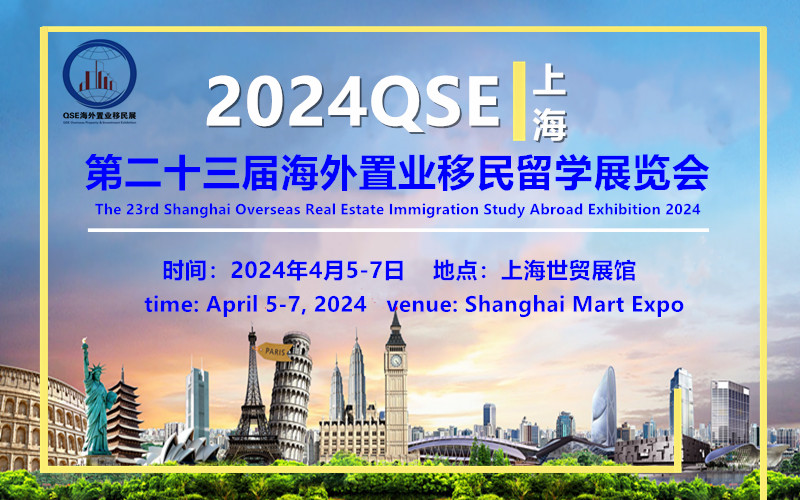 展会名称:2024上海移民展|QSE第23届海外置业移民留学展览会
举办时间:2024-04-05 — 2024-04-07
举办展馆: 上海世贸展馆
主办单位:上海宏胜展览服务有限公司
承办单位:上海宏胜展览服务有限公司
协办单位:
展会地区: 综合展会
展会简介
2024QSE(上海)第二十三届海外置业移民留学展览会
2024QSE The 23rd Shanghai Overseas Real Estate Immigration Study Abroad Exhibition

展览时间:2024年4月5-7日
展览地点:上海世贸展馆(上海市长宁区兴义路99号)
Exhibition time: April 5-7, 2024
Exhibition venue: Shanghai Mart Expo (No. 99, Xingyi Road, Changning District, Shanghai)

展会概况
2024QSE(上海)第二十三届海外置业移民留学展览会,是目前中国针对日益发展的海外置业及投资移民行业的 盛会,展会涵盖四大主题:海外置业、海外移民、海外留学、海外投资。为期三天的展会将会有来自欧洲、北美 洲、亚洲、澳洲、非洲等40多个国家和地区涉及海外置业、移民、投资、留学等多个领域的参展企业,集中展示 高品质地产项目和投资移民服务。"2024QSE(上海)第二十三届海外置业移民留学展览会"是上海地区唯一的专业置业投资、移民展览会,我们可以让您直接近距离地面对意向客户群体,了解您项目的优劣势,并且提供更大更广的平台让您推介您的项目。所以我们一定是您进入中国上海的不二选择和最佳良机。
目前"2024QSE(上海)第二十三届海外置业移民留学展览会"作为一个高品位、全方位、综合性的大型展.本届展会商机无限,市场潜力巨大,共创市场,共展宏图!
Exhibition overview
2024QSE The 23rd Shanghai Overseas Real Estate Immigration Study Abroad Exhibition is a grand event in China aimed at the increasingly developing overseas real estate and investment immigration industry. The exhibition covers four main themes: overseas real estate, overseas immigration, overseas study abroad, and overseas investment. The three-day exhibition will feature exhibitors from over 40 countries and regions including Europe, North America, Asia, Australia, Africa, and more, covering various fields such as overseas real estate, immigration, investment, and study abroad, showcasing high-quality real estate projects and investment immigration services. "2024QSE The 23rd Shanghai Overseas Real Estate Immigration Study Abroad Exhibition" in the Shanghai region. We can allow you to directly face your intended customer base, understand the advantages and disadvantages of your project, and provide a larger and broader platform for you to promote your project. So we are definitely your best choice and opportunity to enter Shanghai, China.
At present, the "2024QSE The 23rd Shanghai Overseas Real Estate Immigration Study Abroad Exhibition" is a high-quality, comprehensive and large-scale exhibition. This exhibition has unlimited business opportunities and huge market potential, creating a market together and showcasing grand plans!

展出范围
◆海外移民项目:投资商业移民项目、移民中介机构、海外留学机构、最新移民项目;
◆海外地产发展商:海外房产、公寓、别墅、商用物业、养老地产、房产中介、邻水别墅、度假酒店、城堡、滑 雪山庄、游艇码头、土地农场酒庄、EB-5区域中心投资、海外中国商城等;
◆海外投资机构:投资银行、基金、金融投资机构、国际投资咨询机构、私募机构、证券事务所、法律服务机构;
◆海外留学教育:海外中小学、海外学院和大学、海外语言培训学校、海外职业培训学校、预科学校、海外** 教育机构、就业机构、留学相关服务(银行、住宿、航空公司、律师事务所)出入境服务机构等;
Exhibition scope
★Overseas immigration projects: investment in business immigration projects, overseas study institutions, and latest immigration projects;
★Overseas real estate developers: overseas real estate, apartments, villas, commercial properties, elderly care real estate, real estate agents, waterside villas, resort hotels, castles, ski resorts, marinas, land farm wineries, EB-5 regional center investment, overseas China Mall, etc.;
★Overseas investment institutions: investment S, funds, financial investment institutions, international investment consulting agencies, private equity institutions, securities firms, legal services institutions;
★Overseas study: overseas primary and secondary schools, overseas colleges and universities, overseas language training schools, overseas vocational training schools, preparatory schools, overseas government educational institutions, employment agencies, overseas study-related services (banks, accommodation, airlines, law firms), immigration services, etc

精准定位于高端人士与展会对接
主要来自国内外观众集中为高净值富裕人群,展会将通过针对性的宣传,全面的联合营销,广泛的定向邀请高端 置业人群和海外投资意向客户,丰富的现场活动,确保海量高端客户群体到场参与。参观人群将包括:海外房地 产商、房产中介、投资移民、移民中介、海外院校、留学咨询中介服务机构、教育置业机构、金融投资机构、高 端公寓、度假型酒店、企业高管、海归人士、 别墅业主、高档小区业主、银行及证劵公司、航空公司、房车车友 会、高端媒体读者群、高端服务机构客户、高端商务培训对象、商铺等海外物业及投资商业移民项目等;
Precisely oriented at high-end people, connect with exhibitio
The exhibition's main audiences are the domestic and foreign high net worth wealthy population, and the exhibition will invite high-end home buyers and overseas investment intended customers through targeted publicity, comprehensive joint marketing, extensive orientation, rich on-site activities to ensure the presence of a large number of high-end customer groups. The visitors include: overseas real estate agents, real estate agents, investment and immigrants, immigration agencies, overseas institutions, study and consultation agencies, educational home buyers, financial and investment institutions, high-end apartments, resort hotels, corporate executives, returnees, villa owners, high-end residential owners, banks and securities companies, airlines, limo car clubs, high-end media readers, high-end service institutions, high-end business training objects, shops and other overseas properties and investment business immigration projects;

现场活动
本届展会旨在为海外置业机构、房产机构、移民机构、留学机构、国际投资金融机构、出境旅游机构提供交流平台,展会现场举办专题推介会、投资移民留学专题讲座、论坛活动等。各单位可向组织单位申请举办,请自定交流主题。
Site activity
This exhibition aims to provide an exchange platform for overseas home buyers, investment and immigration institutions, overseas study institutions, international investment and financial institutions, and outbound tourism agencies. Thematic promotion conferences, lectures, forums and other activities concerning investment, immigration, and overseas study will also be held in the exhibition and all units can apply to organizing units by customizing the subject.